Today's special offer: Parking space for only $187,500!
A parking space in central London is for sale for $187,500! The space is available in the Knightsbridge underground car park near the luxury department-store Harrods. It is thought to be one of the most expensive parking spaces in Britain.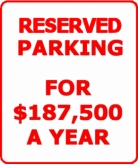 Andy Summer, of Harrods Estates who are handling the sale, said that there is a huge shortage of parking spaces in central London.
Motorists seek ways to avoid extremely high parking costs, sometimes even up to four pounds an hour! They also try to avoid tickets from eager traffic wardens. This is showing in the prices of parking spaces and individual garages which have increased enormously in recent years.
Last July two parking spaces in the Knightsbridge underground car park were sold for $177,000. One was bought by a mother for her 3-year-old son for when he gets his driving license!
Andy Summer says she understands normal people think it's a lot of cash, but for the group of people who live in these areas, $187,500 is not that much. Knightsbridge is one of the most expensive parts of London, where houses routinely sell for millions of dollars.