Today's special offer: Parking space for only $187,500!
A parking space in central London is for sale for $187,500! The space is available in the Knightsbridge underground car park near the luxury department-store Harrods. It is thought to be one of the most expensive parking spaces in Britain.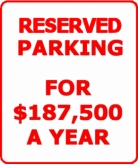 Andy Summer, of Harrods Estates who are handling the sale, said that there is a huge shortage of parking spaces in central London.
Motorists seek ways to avoid extremely high parking costs, sometimes even up to four pounds an hour! They also try to avoid tickets from eager traffic wardens. This is showing in the prices of parking spaces and individual garages which have increased enormously in recent years.
Last July two parking spaces in the Knightsbridge underground car park were sold for $177,000. One was bought by a mother for her 3-year-old son for when he gets his driving license!
Andy Summer says she understands normal people think it's a lot of cash, but for the group of people who live in these areas, $187,500 is not that much. Knightsbridge is one of the most expensive parts of London, where houses routinely sell for millions of dollars.
Posted in Business & Politics by
---
Similar Stories
---

A mobile telephone number in Bahrain is on sale for $19,000. This mobile telephone number has become the most expensive in the history of the local market, for no reason other than... Read more

The Americans put the first man on the moon and the first tourist in space. Now the Russians could make one wealthy couple the first members of the 240-mile-high club. In its... Read more

A mother had her forehead tattooed with the web address of a gambling site after auctioning off advertising space on her head to pay for her son's school fees. Karolyne Smith... Read more

A woman from Ohio had an unexpected ingredient in her salad. She found part of a man's thumb in the salad she had for lunch at a Red Robin's restaurant. The tip of a restaurant... Read more

A 25-year-old man from Maine is auctioning off the back of his neck as advertising space. The winning bidder can put a permanent tattoo ad on the back of Mark's neck. Mark... Read more
---
Comments
---
No comments yet... Be the first!
---
Add Comment
---