7-year-old risks his life for his dad
7-year-old Tyler Moon and his dad were thrown off their quad after hitting a tree. Tyler walked 2km through the Austrailian bush with all of his ribs broken to find help.
Mr. Moon and his son Tyler had been riding their quad when they were sent flying through the air after hitting a tree. Mr. Moon was trapped under the machine while it was running. Tyler, even though all his ribs were broken, walked 2 kilometers to get help.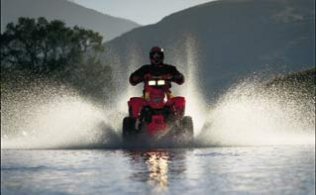 When Tyler arrived home, his mother said he was "white as a ghost" when he got there. All he could muster before he collapsed was "Daddy told me to tell you he needs an ambulance." Tyler is now in stable condition but his father remains critical.
Posted in Health & Food by
---
Similar Stories
---

A police officer's son stole his dad's police cruiser in the middle of the night and used it to pull over his former girlfriend. Richard Melius, the 20-year-old son of Sgt.... Read more

A man who sold everything he owned to risk it all on a single spin of the roulette wheel in the Plaza Hotel and Casino has left Las Vegas twice as rich. 32-year-old Ashley... Read more

Aquarium bosses are playing the sounds of Barry White and Marvyn Gaye underwater to try and put a shark in the mood for love. Zorro, a six-year-old zebra shark, had worn out his... Read more

The Liaoning Provincial Agricultural Museum is appealing to the Guinness Book of Records to recognise a 900 kilo pig which died on February 5 as the biggest pig ever! When the... Read more

A man from Colorado, accused of killing a 19-year-old girl, told police he shot her after he responded to her Craigslist ad seeking a hitman -- for herself. According to an... Read more
---
Comments
---
No comments yet... Be the first!
---
Add Comment
---