18-year-old auctions her virginity on the internet
Rosie Reid sold her virginity in an auction on the internet to avoid graduating from university with debts of $36,700. The 'lucky winner' was a BT engineer, she claims.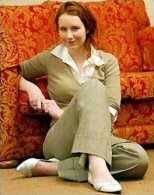 Rosie Reid, lesbian, sold her virginity on her own web site after her lot was removed from Ebay. She claims around 2,000 bidders have showed interest in her offer.
Reid revealed the highest bidder was a divorced 44-year-old BT engineer and father of two. He offered a staggering $20,500 for her 'services'.
Reid admitted the experience was "horrible" but blessedly brief. "It was horrible. . . I felt nervous and scared," she said.
Reid, a student at Bristol University, said she prefered prostituting to running op large student debts and hopes her controversial act will spark debate on the ever larger growing crisis over funding students' college fees.
This isn't the first time a women offers herself over the internet in an auction. A woman offered herself on a variety of auction sites in 2001, going even further than Reid by offering to marry the highest bidder. However, the successful bidder in that auction failed to honour his bid.
Posted in Sex Life Business & Politics by
---
Similar Stories
---

A 25-year-old man from Maine is auctioning off the back of his neck as advertising space. The winning bidder can put a permanent tattoo ad on the back of Mark's neck. Mark... Read more

A Panama-based internet company is being sued by Paris Hilton for $30,000,000. She claims that Kahatani Ltd. is responsible for releasing a video tape of her having sex with her now... Read more

A mother had her forehead tattooed with the web address of a gambling site after auctioning off advertising space on her head to pay for her son's school fees. Karolyne Smith... Read more

A man who sold everything he owned to risk it all on a single spin of the roulette wheel in the Plaza Hotel and Casino has left Las Vegas twice as rich. 32-year-old Ashley... Read more

Mitch Maddox, a man from Dallas, Texas who legally changed his name to Mitch DotComGuy, will sell his trademark last name in an auction this month. On January 1, 2000, at the... Read more
---
Comments
---
No comments yet... Be the first!
---
Add Comment
---