Executioner shot by his animal victim
A dog is a man's best friend as the saying goes. Troughout the years dogs have saved mans life as well as helped track killers on the loose.
We have taught them tricks as well as disciplined them to help the blind. Sometimes we wonder how elite our animal friends are.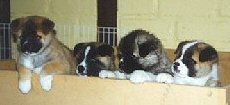 In a case a couple of days ago a man from Pensacola, Florida was planning to shoot four puppies in a litter. The so-called Jerry Allen Bradford, 37, however only shot three puppies and was aiming his pistol at the fourth when the pup beat him at his own game.
The pup allegedly wriggled free, triggered the gun with his paw and fired shooting Bradford in the wrist. Ironically Bradford who went for treatment was arrested by his doctor and charged with animal cruelty.
We will definitely be seeing a smile on one pups face.