Teenager hires undercover officer to kill mother
A 17-year-old boy was arrested while trying to hire an undercover police officer to kill his mother. He instructed the "hitman" not to damage the television during the attack.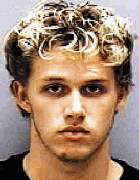 Police say Carlos Chereza first approached a police informant, offering to pay him $10,500 to kill his 50-year-old mom Dreama Chereza. After the informant refused to do the job, Carlos asked the informant to help him get a gun so he could kill her himself.
Instead of delivering him the gun, the informant introduced him to an undercover detective who would possibly shoot his mom.
When Carlos and the detective met eachother, they made a $2,000 deal to shoot Dreama Chereza. The police said Carlos expected to inherit the money from his mother's bank account.
Carlos asked that the shooting be made to look like a burglary and instructed the detective not to damage the television set during the attack. He gave the detective a key to the apartment, a map of the apartment and a picture of his mom.
The teenager was arrested immediately after meeting with the undercover detective on a charge of soliciting to commit first-degree murder. His motive was related to domestic problems within the family.
Posted in Crime & Law by
---
Similar Stories
---

Police have arrested a mother for allegedly baking her five-month-old baby in an oven, seriously burning the infant, media and officials said today. The child received second... Read more

During a routine check the police in Indiana found a bag with crack cocaine in a baby's diaper. The street value of the cocaine was about $140,000. Last summer trooper Douglas... Read more

A police officer's son stole his dad's police cruiser in the middle of the night and used it to pull over his former girlfriend. Richard Melius, the 20-year-old son of Sgt.... Read more

A teenager took his father's credit card and spent about £12,000 during a four-day trip to Brighton and Rome. The teenager, Tom Smith, stole the credit card from his father... Read more

A Nigerian mom was arrested for pouring boiling hot oil over her son as a punishement for eating too much leftovers. 10-year-old Ebuka Ochichi had eaten too much of the macaroni... Read more
---
Comments
---
No comments yet... Be the first!
---
Add Comment
---