City wants mermaid to get boob job and liposuction
A small Polish town on the Baltic coast wants a makeover for its patron mermaid to improve its appearance and make it look more sexy.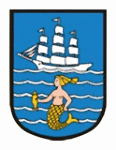 The towns patron, displayed on the right displays a mermaid with rather small breasts and very wide hips.
The town's mermaid shield became a hot topic during talks about a campaign to promote the coastal town of Ustka, in which the mermaid was supposed to play a key role.
"There was a discussion about the coat of arms and one female councilor said jokingly that the mermaid's breasts were too small and that she was a bit fat," said the city hall spokesman.
Her fellow councillors think she has a point. They are now planning to give the mermaid 'plastic surgery', to give her a sexy new figure and to attract more tourists to the little town of Ustka.
Posted in Other by
---
Similar Stories
---

An English driver received a parking ticket after workmen painted yellow lines under his parked car. Steve Tether parked his car in Lime Street (Hull) and when he returned to... Read more

An Indian man in the northern city of Kanpur says glass and empty liquor bottles are a regular part of his diet. Dashrath, 40, claims he first consumed crushed glass with alcohol in... Read more

There are signs that the mass shooting at a High School in Parkland, Florida, which killed 17 people, could change things, but nothing has changed. Congress has passed no... Read more

A man from Colorado, accused of killing a 19-year-old girl, told police he shot her after he responded to her Craigslist ad seeking a hitman -- for herself. According to an... Read more

A nurse and her two cameramen were arrested after they filmed a porn movie at the Munich beer festival on the city's famous big wheel. The 21-year-old nurse and the two... Read more
---
Comments
---
No comments yet... Be the first!
---
Add Comment
---