Pupils film teachers with prostitutes during school trip
A group of teachers from Sweden was filmed going into a brothel while on a school trip. The students were outraged and publicized the tapes.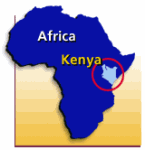 A group of teachers and school kids had arranged a school trip to Kenya to give the youngsters an oppertunity to come in contact with people from another culture and to help them.
The teenagers, aged between 16 and 18 were outraged at their teachers' behaviour. They were exploiting their hosts instead of helping them.
One day the kids followed them with a camera and filmed them in the red light district as they talked to prostitutes and disappeared into a brothel.
They followed the teachers because locals from the community, Mombassa, complained about the teachers' behaviour.
The kids handed over the material showing teaching staff with call girls when they returned to Sweden.
When the headmaster refused to act, they publicized the footage. One of the students said: "We went to Kenya to help people and then our teachers exploited them. It was disgusting."
Posted in Sex Life by
---
Similar Stories
---

An anonymously donated chocolate cake at a German school was at first much appreciated by the teachers; at least until they got 'sick' from it not knowing they were actually high on... Read more

A 56-year-old Indian man vowed that he would not marry with his girlfriend until he passes his school exams. He is going to try to pass to pass the school exams for the 38th time!... Read more

A 7-year-old girl from Pittsburgh was suspended this week for saying the word 'hell' to a boy in her second-grade class. The girl, Brandy McKenith, says she was only warning the... Read more

Jose Geraldo Soares, a Brazilian pastor who booked two movie theaters to watch the film 'The Passion of The Christ' with his church congregation and family, died of an apparent... Read more

A mother had her forehead tattooed with the web address of a gambling site after auctioning off advertising space on her head to pay for her son's school fees. Karolyne Smith... Read more
---
Comments
---
No comments yet... Be the first!
---
Add Comment
---