Mr DotComGuy is selling his last name
Mitch Maddox, a man from Dallas, Texas who legally changed his name to Mitch DotComGuy, will sell his trademark last name in an auction this month.

On January 1, 2000, at the dawn of the new millennium, 30-year-old Mitch DotComGuy embarked opun the challenge of his life. He moved into an empty flat, only taking a laptop computer with him. He would stay there for the rest of the year. He wanted to prove that he could live for a year solely off purchases made on the Internet. Viewers were able to watch Maddox 24 hours a day via webcams in his apartment.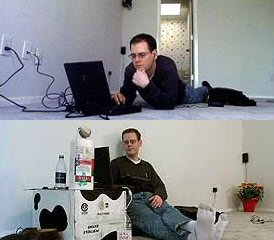 Mitch says he has taken the name as far as he can go and will take his family name back on March 23, 2004.
Maddox started an auction on his site on Tuesday. The highest bidder gets the trademark, DotComGuy, and the domain name
DotComGuy.com
.
Maddox said: "It's an asset I've had lying around, and I think it can really benefit someone else,".
Maddox said the market for domain names certainly influenced his decision to sell. Recently, the domain name men.com was sold for $ 1,800,000.
The auction will end on April 30 and the successful bidder will be announced by May 15, 2004.