Woman tries to pay Wal-Mart with fake million dollar bill
A woman from Georgia, USA was arrested for trying to pay an amount of $1,671.55 with a fake million dollar note at Wal-Mart.
The staff at the Wal-Mart in Covington called the police when Alice Regina Pike was trying to buy $1,671.55 worth of merchandise with a one-million dollar bill.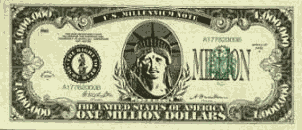 When the police arrived they arrested Pike for allegedly trying to use the fake million dollar bill. After searching her purse the police found two more fake million dollar notes.
Evidently Pike didn't know the U.S. Treasury does not make $1-million bills. The toy ones she had, can be bought as gifts in some souvenir shops.
Stacey Cotton, the police chief of Covington said: "the bill looks real, but offcourse there's nothing real about this." The fake bill featured a picture of the Statue of Liberty.
After Pike was charged with forgery she said her husband had given her the bills as a gift and that she thought they were real.
Posted in Crime & Law by
---
Similar Stories
---

A woman from Newmarket, near Cambridge in eastern England has tried to register 2 of her cows as voters. It's the second time she's done this. Last year Brenda Gould registered... Read more

A woman in Greenland, who broke into a hotel and stole liquor, will plead self-defense in court. She says it was cold outside and there was no other way in. Jensine Berthelsen, a... Read more

J-Lo's mom won the 2.4 million dollar jackpot in a casino in Atlantic City on Saturday night. Guadalupe Lopez hit the jackpot playing on the popular Wheel of Fortune machines in... Read more

A mother had her forehead tattooed with the web address of a gambling site after auctioning off advertising space on her head to pay for her son's school fees. Karolyne Smith... Read more

Customers of a German supermarket chain will soon be able to pay for their shopping by placing their finger on a scanner at the check-out. An Edeka store in the southwest German... Read more
---
Comments
---
No comments yet... Be the first!
---
Add Comment
---