Swedish baby baked in oven
Police have arrested a mother for allegedly baking her five-month-old baby in an oven, seriously burning the infant, media and officials said today.
The child received second-degree burns all over his body during the incident last weekend, and was in stable condition in a Gothenburg hospital, a clinic spokeswoman said.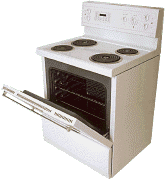 "It's a terrible story, but at least he's in stable condition for the time being," said Margreth Jonson of the Sahlgrenska University Hospital in Gothenberg.
The baby was taken to hospital on Sunday with burns across much of his body.
Police quickly grew suspicious that the child's 30-year-old mother had inflicted the injuries, and on Tuesday they arrested her.
"The baby's mother was arrested for attempted murder," police inspector Harriet Persson said.
Persson refused to give any further details, insisting that investigators were not permitted to discuss the case until after the woman's expected indictment in January.
According to Swedish news reports, however, police arrested the baby's mother on suspicion that she had tried to kill him by baking him in a hot oven.
Posted in Crime & Law by
---
Similar Stories
---

The dog was looking for food for her newborn puppies when she reportedly saved a 2-week-old baby girl from a forest in Kenya. The dog found the baby in a forest south of the... Read more

A pregnant Mexican woman performed a caesarean section on herself using a kitchen knife. The do-it-yourself c-section was successful and the woman gave birth to a healthy baby boy.... Read more

During a routine check the police in Indiana found a bag with crack cocaine in a baby's diaper. The street value of the cocaine was about $140,000. Last summer trooper Douglas... Read more

An Australian beer brewer is rewarding 6 crates of beer to the person who finds the stolen statue of baby Jesus. The statue was stolen from an altar which was established by the... Read more

Stockholm - Rather than bury or burn bodies after death, a Swedish company has come up with a chilling alternative; freezing them in liquid nitrogen, then using sound waves to smash... Read more
---
Comments
---
No comments yet... Be the first!
---
Add Comment
---