Baby smuggles cocaine in his diaper
During a routine check the police in Indiana found a bag with crack cocaine in a baby's diaper. The street value of the cocaine was about $140,000.
Last summer trooper Douglas Humphrey pulled a car over for speeding. Humphrey found out the driver, Walter H. Martin, had no driver's license and was renting the car under someone else's name.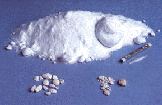 When the trooper tracked the name of the driver, he also discoverd Mr Martin was a suspect in an ongoing drugs investigation.
When the trooper checked the family's car he found a gun and some drugs. The policeman took the baby out of the car to look for more and discovered the baby had a bag filled with crack cocaine in his diaper.
The trooper suspected the man probably had more drugs stashed away in his car, so he requested a drug dog. The drug dog found a small amount of marijuana in the car. The infant's mother, Tawana Fairley, admitted she had two small bags with marijuana stuffed in her socks.
The 30-year-old infant's father, Walter H. Martin, and his wife were accused of drug-related offences. Mr Martin said the police officer illegally searched his kids diaper and asked the court to disregard the evidence.