900 kg pig battles 'Big Bill' for world record
The Liaoning Provincial Agricultural Museum is appealing to the Guinness Book of Records to recognise a 900 kilo pig which died on February 5 as the biggest pig ever!
When the pig died it was 2.5 metres long, had a waistline of 2.23 metres and a tusk of 14.4 centimetres long.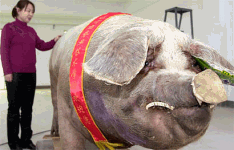 According to XU Changjin, a farmer of Wafangdian city, the pig was only 5 years old. He kept his pig in a good built sty and gave it quality food all its life.
Professor Liu Mingyu, a life scientist said that the pig was too big to move around normally and died from lack of exercise. Liu made the pig ready to be exhibited in the Liaoning Provincial Agricultural Museum which is applying for the pig to be listed in the Guinness Book of Records.
But a spokesman for the Guinness Book of Records said that the 900 kilogram pig does not beat a Poland-China pig called 'Big Bill' which died in 1933. Big Bill weighed 1157.4 kg, was 1.52 metres tall and 2.47 metres long.
Posted in Animals by
---
Similar Stories
---

A woman from Georgia, USA was arrested for trying to pay an amount of $1,671.55 with a fake million dollar note at Wal-Mart. The staff at the Wal-Mart in Covington called the... Read more

An Indonesian musician who played the drums for 72 hours has broken a world record. Kunto Hartono, 26, was declared the holder of the national record for longest drum-beating and... Read more

A man who once weighed 482 kg (1062 lb.) has lost 144 kg (317 lb.) under the care of a team of doctors. He hopes to lose another 203 kg (448 lb.). 42-year-old Patrick Deuel who... Read more

The Americans put the first man on the moon and the first tourist in space. Now the Russians could make one wealthy couple the first members of the 240-mile-high club. In its... Read more
---
Comments
---
No comments yet... Be the first!
---
Add Comment
---