Frenchman swallowes 350 coins after drunken bet
A 62-year-old Frenchman died after swallowing 350 coins in a drunken bet with a romanian 27-year-old.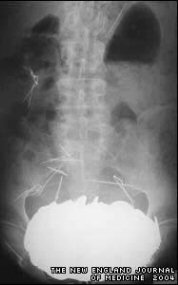 The Frenchman had a history of psychiatric illness and was admitted to hospital for his swollen stomach. He couldn't eat, drink or go to the toilet.
Doctors were puzzled as to what was the cause of his illness, but after they carried out an X-ray they were astounded by what they saw. The man's stomach was completely filled with coins.
Reportedly the man had a bet going with Gigi Florin, a Romanian 27-year-old, over who could swallow the most coins. Mr. Florin swallowed 120 coins and the Frenchman swallowed 350, the equivelant of 5.5 kilograms (12 pounds) or a bowling ball!
Mr. Florin said that by drinking warm wine while swallowing the coins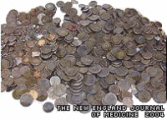 their stomachs would relax and the coins could be swallowed without any bother. But after 120 coins he collapsed and the bar staff called in an ambulance.
Doctors at the hospital didn't believe the story until they saw the coins in Mr. Florin's stomach with their own eyes. "When we X-rayed him we found a large pile of coins in his stomach. I tried to count the money but I couldn't as there was too much." said Dr. Mircea Coada.
Mr. Florin's French friend died at Cholet General Hospital in western France after receiving stomach surgery. His family said it wasn't the first time he swallowed coins.
Posted in Health & Food by
---
Similar Stories
---

A student of the University of South Florida came home and found a drunken burglar passed out in the laundry room, wearing her clothes. When Theresa Hall arrived home she noticed... Read more

San Francisco - Researchers found a gene responsible for drunkenness in worms after plying thousands of the tiny creatures with booze, a discovery that could boost the fight against... Read more

A man who sold everything he owned to risk it all on a single spin of the roulette wheel in the Plaza Hotel and Casino has left Las Vegas twice as rich. 32-year-old Ashley... Read more

A 32-year-old man had to go to hospital because he was bitten in his testicles by his girlfriend. His girlfriend has been arrested on suspicion of domestic battery. According to... Read more

A Russian man who fell asleep between train tracks failed to wake up when a 140-tonne cargo train passed over him. Vladimir Rasimov passed out and fell asleep between the tracks... Read more
---
Comments
---
No comments yet... Be the first!
---
Add Comment
---