Woman's cows are not allowed to vote
A woman from Newmarket, near Cambridge in eastern England has tried to register 2 of her cows as voters. It's the second time she's done this.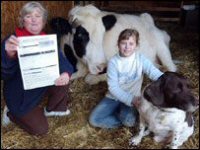 Last year Brenda Gould registered "Henry and Sophie Bull" and "Jake Woofies" as voters. They later turned out to be two cows and a dog and were not allowed to 'vote' in the local government elections.
She made up a story for the cows to make it look like a legitimate application. She claimed her address had been split into two properties and the new residents allegedly lived in the new second part of the propertie. Those two 'persons' turned out to be her cows.
Brenda Gould was convicted on tuesday and was ordered to pay a $189 fine.
The council's legal assistant, Maggie Camp said "This was the second time that Mrs. Gould had given false information on electoral forms and so, regrettably, the council felt it was necessary to take action to prevent this abuse of the election system from continuing,"
Brenda and her husband Barry later said the fake applications were a joke. They were merely irritated because they had gotten a letter from the council addressed to the occupants of their barn.
"We ignored it and then someone came around to ask why we hadn't filled it in," Brenda said.
"We just thought they were being stupid. So my husband said, 'if they want to know who's living in the barn we'll tell them.' So we did. We didn't tell any lies. We just put down the names of the animals."
"It was a joke that's all gone a bit haywire, really. We never thought it would come to this," she said. "I don't suppose we'll be doing it again."
Posted in Crime & Law Animals Business & Politics by
---
Similar Stories
---

A German woman's driver's license was taken from her after she she drove to the police station, drunk. Her intention was to pick up her handbag which was recovered by the police.... Read more

A pregnant Mexican woman performed a caesarean section on herself using a kitchen knife. The do-it-yourself c-section was successful and the woman gave birth to a healthy baby boy.... Read more

Scott Kirhart from Manson, Iowa was fired for allegedly handling a woman's corpse inappropriately while he was transporting her to a morgue. The Trinity Regional Medical Centre,... Read more

An elderly woman from Aughamore, Mayo in Ireland lived with her sister's corpse for almost a year. She sometimes even slept in the same bed with it! Mary Ellen Lyons never told... Read more

A 32-year-old man had to go to hospital because he was bitten in his testicles by his girlfriend. His girlfriend has been arrested on suspicion of domestic battery. According to... Read more
---
Comments
---
No comments yet... Be the first!
---
Add Comment
---