And the winner of the 2004 'Mr Ugly' contest is...
A 30-year-old Chinese man has won this years 'Mr Ugly' contest in the province Hubei, in central China. The man will undergo 3 months of plastic surgery to make him look like the famous Chinese singer and actor, Lu Yi.
The director of the Sino-Australian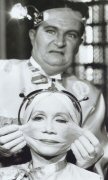 plastic surgery hospital in Wuhan, Yu Xinrui, said "both his face and figure look very much like Lu Yi, so we are going to do the surgery referring to Lu."
The man claimed he lost his job due to his bad looks. He said "I'm really ashamed. I have not had a real romantic experience although I'm already 30,"
Last year, cities like Shanghai, Beijing and Guangzhou have held controversial 'Miss Ugly' contests; these contests have come under a lot of criticism because they were alledgedly held to boost the business of plastic surgery clinics.
Plastic surgery is becoming increasingly popular in China as Chinese start to get more conscious about their appearance. The clinics get more and more clients who want to have a more western look. Most of these clients are women influenced by western media.
Posted in Entertainment Other by
---
Similar Stories
---

A date with former Baywatch star Carmen Electra is being auctioned off on Ebay for charity. The ex-Baywatch actress is up for sale to help raise money for The National Prostate... Read more

Rosie Reid sold her virginity in an auction on the internet to avoid graduating from university with debts of $36,700. The 'lucky winner' was a BT engineer, she claims. Rosie... Read more
---
Comments
---
No comments yet... Be the first!
---
Add Comment
---