Swedes offer freeze-dry burials
Stockholm - Rather than bury or burn bodies after death, a Swedish company has come up with a chilling alternative; freezing them in liquid nitrogen, then using sound waves to smash the brittle remains into a powder.
Concerns about the environmental impact of cremation, where a
body is incinerated at high temperature, and burial, in which a body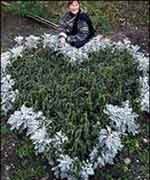 can take many years to decompose, has led Swedish firm Promessa Organic AB to the new solution.
The process involves flash-freezing bodies to -18C, then dipping them in liquid nitrogen with a temperature of -196C. The bodies, extracted from the super-cold solution, are brittle as glass and broken down with bursts of sound to leave a powder substance.
From there, all water is removed in a vacuum chamber before the remains are moved through a metal screen that filters away any precious metals in fillings or remnants of pacemakers and other implants that may have survived the freezing process.
"The method is based upon preserving the body in a biological form after death, while avoiding harmful embalming fluid," said Susanne Wiigh-Maesak, a biologist and head of operations at Promessa, based in Goteborg, 475km southwest of Stockholm.
She said the authorities in nearby Joenkoeping were ready to start operating its first freeze-drying facility in the next couple of years. She has also applied for a patent for the process in 35 countries.
The remains, she said, could be then cremated or buried in a coffin crafted from corn starch. The small casket could be placed in a
shallow grave - about 30cm deep - where oxygen and bacteria would take about a year to break them down and return them to the soil.
"On top of the grave you can set a plant, that is taking advantage of the nutrients in the 'compost'," Wiigh-Maesak said, adding that she herself would very much like to become a white rhododendron.
Posted in Tech & Science Business & Politics by
---
Similar Stories
---

A mobile telephone number in Bahrain is on sale for $19,000. This mobile telephone number has become the most expensive in the history of the local market, for no reason other than... Read more

A parking space in central London is for sale for $187,500! The space is available in the Knightsbridge underground car park near the luxury department-store Harrods. It is thought... Read more

A 25-year-old man from Maine is auctioning off the back of his neck as advertising space. The winning bidder can put a permanent tattoo ad on the back of Mark's neck. Mark... Read more

A love motel in Soa Paulo has opened for amorous dogs. The love motel offers decorated rooms for dogs of pet owners who are concerned for their animal's needs. Robson Marinho,... Read more

A mother had her forehead tattooed with the web address of a gambling site after auctioning off advertising space on her head to pay for her son's school fees. Karolyne Smith... Read more
---
Comments
---
No comments yet... Be the first!
---
Add Comment
---