It's raining cats and dogs!
A dog that often jumped out the window of his owners' ground-floor apartment jumped out of the window of their new flat forgetting it was six floors up.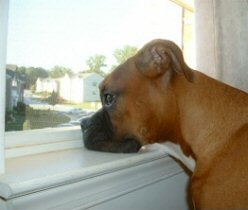 Fortunately the lucky dog was saved when it landed on a balcony three floors down from the apartment in Cologne.
The dog's owners Udo and Angela Baecker, both 29, called the fire department when they heard their pet boxer whining from the balcony below. They couldn't get him themselves because the tenants were away on vacation.
"We've only been in the new apartment for a week, but thought TJ would have got used to it after climbing up all the stairs. We never thought he'd try his usual trick of jumping from the window to get into the garden," said Angela.
I don't think this dog will be jumping out of any more windows anytime soon.
Posted in Animals by
---
Similar Stories
---

A love motel in Soa Paulo has opened for amorous dogs. The love motel offers decorated rooms for dogs of pet owners who are concerned for their animal's needs. Robson Marinho,... Read more

The dog was looking for food for her newborn puppies when she reportedly saved a 2-week-old baby girl from a forest in Kenya. The dog found the baby in a forest south of the... Read more

A dog is a man's best friend as the saying goes. Troughout the years dogs have saved mans life as well as helped track killers on the loose. We have taught them tricks as well as... Read more

A California woman claimed she swallowed one bullet and bit another while she was eating a hotdog. She even has X-rays to prove it! The 31-year-old Olivia Chanes bought the... Read more

A drunk Thai man was bitten several times when he tried to rape an unwilling dog. Police said the 33-year-old man had been drinking heavily with friends before he tried to rape... Read more
---
Comments
---
No comments yet... Be the first!
---
Add Comment
---