Man tries to commit suicide by swallowing spoons
A Romanian man says he was trying to commit suicide by swallowing five teaspoons.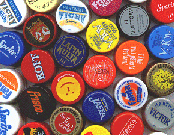 The man had intended swallowing some bottle caps and another two teaspoons. However he stopped after the fifth teaspoon.
The doctor that treated the man said: "The ostrich man, as we call him, is one of our regular clients He was brought here for swallowing pills, pieces of string or plastic but the spoons is something new".
After the man was treated he was transferred to a psychiatric hospital for evaluation.
Posted in Health & Food by
---
Similar Stories
---

An Indian man in the northern city of Kanpur says glass and empty liquor bottles are a regular part of his diet. Dashrath, 40, claims he first consumed crushed glass with alcohol in... Read more

A 62-year-old Frenchman died after swallowing 350 coins in a drunken bet with a romanian 27-year-old. The Frenchman had a history of psychiatric illness and was admitted to... Read more

A man from Colorado, accused of killing a 19-year-old girl, told police he shot her after he responded to her Craigslist ad seeking a hitman -- for herself. According to an... Read more

A drunk Thai man was bitten several times when he tried to rape an unwilling dog. Police said the 33-year-old man had been drinking heavily with friends before he tried to rape... Read more

A German man was found dead in his home half eaten by his own exotic spiders and lizards. The man from Dortmund, Germany lived in his own 'zoo', he had over 200 exotic spiders,... Read more
---
Comments
---
No comments yet... Be the first!
---
Add Comment
---