'Wrong way' driver warns police about 'wrong way' drivers
A pensioner from Bern, Switzerland, who was driving the wrong way down a motorway stopped to complain to police officers about all the other people who were driving in the wrong direction.
The 86-year-old granddad thought he was the only one going in the right direction, he even told the police he flashed his lights at six motorists to warn them.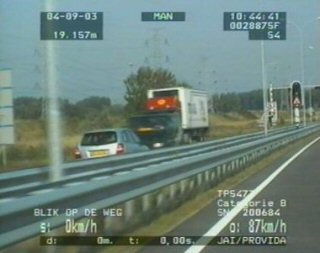 While the man was driving along the A6 motorway, going against traffic, he saw a police cruiser and stopped to tell them about all the 'wrong way' drivers he saw.
The police officers confiscated the man's car keys and drove him home while a colleague followed in the pensioner's car.
Police will now investigate whether to take the man's drivers license from him.
Posted in Crime & Law by
---
Similar Stories
---

A German woman's driver's license was taken from her after she she drove to the police station, drunk. Her intention was to pick up her handbag which was recovered by the police.... Read more

A German driving teacher taught motorists how to drive for 43 years without having a driver's license himself. The Berlin driving instructor has taught over a 1000 motorists how... Read more

During a routine check the police in Indiana found a bag with crack cocaine in a baby's diaper. The street value of the cocaine was about $140,000. Last summer trooper Douglas... Read more

A pair of thieves who seized a van loaded with pricey designer goods near Paris on Wednesday took a two-hour detour so they could drive the owner home for his Christmas Eve dinner,... Read more

A man was arrested after choking on tobacco spit from the truck driver he had stolen a lorry from. The thief mistook the truck driver's tobacco-spit cup for a soft drink. The 26... Read more
---
Comments
---
No comments yet... Be the first!
---
Add Comment
---