Pigeon to be honoured as war hero
A pigeon from the British Royal Air Force which delivered the first news of success for the allies on D-day is to be celebrated as the greatest pigeon to have served its country.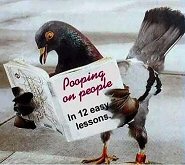 Gustav, as the pigeon is called, will be honoured in London's Imperial War Museum during the celebration of the museum's 60th anniversary.
Gustav's 'mission' was made difficult by strong headwinds of over 48 km/h and heavy clouds which obscured his view of the sun. The sun is a pigeon's primary means of navigation.
The brave pigeon still managed to deliver the good news within five hours and 16 minutes after having flown 240 kilometers from Normandy to England's south coast.
Gustav's message read: "We are just 20 miles or so off the beaches. First assault troops landed 0750. Signal says no interference from enemy gunfire on beach ... Steaming steadily in formation. Lightnings, Typhoons, Fortresses crossing since 0545. No enemy aircraft seen."
Gustav earned himself the Dickin Medal for his bravery. This is England's highest military award for animals.
Despite facing great danger, having to dodge bullets and fly in terrible weather during the war, Gustav survived; only to be killed by his breeder when he accidentally stepped on him during peacetime.
Posted in Animals by
---
Similar Stories
---

A seven year old boy from Agra, India hung himself hoping to be saved just in time by TV-Hero Shaktimaan, the Indian version of Superman. According to his friends he was... Read more

There are signs that the mass shooting at a High School in Parkland, Florida, which killed 17 people, could change things, but nothing has changed. Congress has passed no... Read more

An Australian 3-year-old was hailed as a hero after saving his mum from an almost certain death by calling emergency services after she collapsed due to an epileptic seizure.... Read more
---
Comments
---
No comments yet... Be the first!
---
Add Comment
---