Football fan banned for penis stunt
A Dutch football club has banned one of its fans for posing for a photograph with the local mayor with his penis hanging out.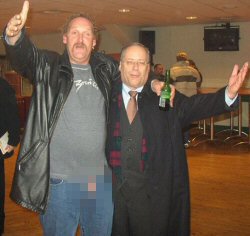 Mayor Wim Deetman did not realise the ADO Den Haag fan was exposing himself when he agreed to have his picture taken with him.
He had just come from a meeting with club directors and gladly posed arm in arm with the fan who was clutching a bottle of beer.
It was only later, when the picture was circulated on the internet, that Mayor Deetman realised he had been set up.
He is now taking legal action against the supporter and is awaiting the judge's verdict.
However, ADO Den Haag has now announced that the fan will no longer be welcome at its stadium.
"To us, the incident is now closed," said chairman Ronald Langenbach.
Posted in Other by
---
Similar Stories
---

A Belgian referee's pants and shorts were pulled down by a fan. The referee says he'll never officiate another match again after this humiliating event. Jacky Temmerman was... Read more

A Romanian man needed some help after his 'great idea' started to feel not so great. He had superglued his condom to his penis. The 43-year-old father-of-five told doctors he and... Read more

A football club owner is to put his club on eBay after his previous attempts to sell it failed. The club owner of , tried to give the club to his local council. He wrote a... Read more

An Irish rugby fan got locked in Wigan's JJB stadium after he fell asleep on the toilet. Paul Walsh had been watching the match between Wigan Warriors and Leeds Rhinos. The... Read more

An American judge is facing unemployment after using a sex toy, a penis pump, in court. The 57-year-old judge, Donald Thompson, was seen doing something with his hands under his... Read more
---
Comments
---
No comments yet... Be the first!
---
Add Comment
---