Belgian soccer fan pulls down referee's pants
A Belgian referee's pants and shorts were pulled down by a fan. The referee says he'll never officiate another match again after this humiliating event.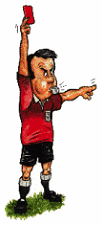 Jacky Temmerman was refereeing a match between Young Stars Eeklo and FC Zelzate when one of the supporters ran onto the field and pulled down the stunned referee's shorts and underpants.
The 20-year-old fan who said he didn't know what came over him plays for another local team, KFC Eeklo.
A few hundred supporters were present at the match and witnessed how the fan, who is also a coach for young soccer players, made a fool out of the official.
"I looked very nice in front of a few hundred supporters. That man made a fool of me.", said J. Temmerman.
"I will never dare to show up for another match. They can look for another idiot who is prepared to stand with his ass naked for 20 euros a game."
The coach of Young Stars Eeklo, Marnix Speekaerts, said he had never seen anything like it in his life.
"Sometimes supporters spit on the referee but we never saw a fan come on the field and do something like that. I hope he will be severely punished.", said Mr Speekaerts.
The supporter faces a possible lifetime ban from the Belgian Football Association.
Posted in Entertainment by
---
Similar Stories
---

A Dutch football club has banned one of its fans for posing for a photograph with the local mayor with his penis hanging out. Mayor Wim Deetman did not realise the ADO Den... Read more

An Irish rugby fan got locked in Wigan's JJB stadium after he fell asleep on the toilet. Paul Walsh had been watching the match between Wigan Warriors and Leeds Rhinos. The... Read more

A British and American submarine came out of the ice, near the south pole, to play a nice game of soccer. A soccer game took place between a British and an American nuclear... Read more

A Chinese man has managed to pull a car while walking on eggs without breaking a single egg. Not only did he pull the car 20 metres, he actually did it with his ears! The... Read more
---
Comments
---
No comments yet... Be the first!
---
Add Comment
---