Teenager tries to sell drugs to police officers
A teenager has been arrested for trying to sell drugs to two police officers. Both police officers had the word 'police' written on their jackets in large letters.
The two police officers were on a routine patrol when a 17-year-old high school student, Davaugn Goethe, signaled them to stop. When the officers stopped the car, Davaugn opened the backdoor and jumped in.
Davaugn asked what kind of drugs the officers wanted and how much. He even said the two men looked like cops!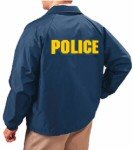 "Maybe it was the police raid jackets they were wearing with 'police' written in big letters on the back, on the sleeves and on the front.", said a spokesman.
Davaugn thought the officers were looking for drugs because they were driving very slowly. This is something many prospective drug buyers do.
When the officers arrested Davaugn, it appeared he was swallowing the drugs. No drugs have been recovered yet.
The spokesman said: "The officers were wearing raid jackets because they were looking for fugitives and didn't want to be mistaken for anything but police officers."
Davaugn Goethe will have to appear in court later this month.
Posted in Crime & Law by
---
Similar Stories
---

An anonymously donated chocolate cake at a German school was at first much appreciated by the teachers; at least until they got 'sick' from it not knowing they were actually high on... Read more

A German woman's driver's license was taken from her after she she drove to the police station, drunk. Her intention was to pick up her handbag which was recovered by the police.... Read more

An Argentinean man was arrested after offering drugs in return for his car. He hoped the car thiefs would bring his car back to get the drugs. Juan Carlos Centurion, whos car was... Read more

A pensioner from Bern, Switzerland, who was driving the wrong way down a motorway stopped to complain to police officers about all the other people who were driving in the wrong... Read more

A 17-year-old boy was arrested while trying to hire an undercover police officer to kill his mother. He instructed the "hitman" not to damage the television during the attack.... Read more
---
Comments
---
No comments yet... Be the first!
---
Add Comment
---