Indian man eats glass for dinner.
An Indian man in the northern city of Kanpur says glass and empty liquor bottles are a regular part of his diet. Dashrath, 40, claims he first consumed crushed glass with alcohol in a suicide attempt during a depression.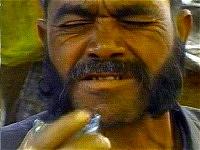 A fisherman by profession, Dashrath says he not only survived the suicide attempt, but realized that he had a taste for glass. "I have been eating glass for the past fifteen years and I have not had any problems," he said, adding he also eats lead bullets. But he has some trouble eating thick soda bottles.
Dashrath's mother, who sometimes serves her son glass bulbs and bottles with his dinner platter, says her son appears to be healthy. "My son eats glass regularly, especially when he is drunk. He has never had any problems after eating glass and we have never had to take him to see a doctor", she said.
For nearby residents, "glass man," as he is popularly known, is nothing less than a tourist spectacle. Visitors to the city regularly stop by Dashrath's fish stall, where he makes a show of bargaining fish prices and chewing glass.
Posted in Health & Food by
---
Similar Stories
---

A pair of thieves who seized a van loaded with pricey designer goods near Paris on Wednesday took a two-hour detour so they could drive the owner home for his Christmas Eve dinner,... Read more

A 56-year-old Indian man vowed that he would not marry with his girlfriend until he passes his school exams. He is going to try to pass to pass the school exams for the 38th time!... Read more

A 32-year-old man from The Netherlands who refused to use a shopping basket in his local supermarket was convicted for his "crime" today. Carst Kijlstra was carrying two pieces... Read more

A drunk Thai man was bitten several times when he tried to rape an unwilling dog. Police said the 33-year-old man had been drinking heavily with friends before he tried to rape... Read more

A Romanian man says he was trying to commit suicide by swallowing five teaspoons. The man had intended swallowing some bottle caps and another two teaspoons. However he stopped... Read more
---
Comments
---
No comments yet... Be the first!
---
Add Comment
---