Will love songs put sharks in the mood to shag?
Aquarium bosses are playing the sounds of Barry White and Marvyn Gaye underwater to try and put a shark in the mood for love.
Zorro, a six-year-old zebra shark, had worn out his former tank mates at Sea Life Belgium. Hoping he would find new love, he was shipped to the Sea Life London Aquarium on Valentine's Day.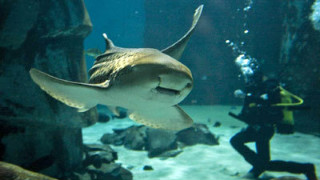 Paul Hale, curator at the aquarium hoped he would hook up with a single shark called Mazawabee, but so far their relationship has been strictly platonic.
To re-ignite Zorro's mojo, marine experts are trying to seduce the sharks with seductive music, such as Marvin Gaye's Let's Get It On.
"Zorro has something of a reputation as a "ladies shark" and as Mazawabee has been 'single' for a number of years now, we really thought they would get together very quickly," says Paul Hale.
"But it's been months since their first introduction and although there are certainly signs that Zorro has been making advances, we would really have expected some serious mating by now."
"Research suggests that fish can not only hear music but can appreciate different tunes and melodies so we have decided to see if some good old fashioned love songs will get them in the mood!"
Posted in Sex Life Animals Tech & Science by
---
Similar Stories
---

A love motel in Soa Paulo has opened for amorous dogs. The love motel offers decorated rooms for dogs of pet owners who are concerned for their animal's needs. Robson Marinho,... Read more

Last weekend children found hundreds of dead frogs in a fishing pond in the Dutch village of Montfort. According to frog expert H. van Buggenum from the local environment... Read more

A pod of dolphins circled protectively round a group of New Zealand swimmers to fend off an attack by a great white shark. Rob Howes and three other lifeguards were on a training... Read more
---
Comments
---
No comments yet... Be the first!
---
Add Comment
---