Making love kills frogs and toads
Last weekend children found hundreds of dead frogs in a fishing pond in the Dutch village of Montfort.
According to frog expert H. van Buggenum from the local environment foundation the frogs paired themselves to death.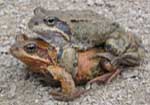 Every year the hormones of the frogs and toads lead them to the so called pairing ponds. The male frogs and toads then crawl in groups on one female. She gets stuffed underwater or gets suffocated by the weight of the enthusiastic males. The male frogs also die. That happens on the way to the pond. They get killed by a horde of their sex crazed friends.
In every pairing pond die about a hundred frogs and toads annually. "That's normal, but in this particular pond it's hundreds! That's pretty exceptional", Van Buggenum says.
Posted in Sex Life Animals by
---
Similar Stories
---

A love motel in Soa Paulo has opened for amorous dogs. The love motel offers decorated rooms for dogs of pet owners who are concerned for their animal's needs. Robson Marinho,... Read more

Aquarium bosses are playing the sounds of Barry White and Marvyn Gaye underwater to try and put a shark in the mood for love. Zorro, a six-year-old zebra shark, had worn out his... Read more

A Mexican tamale chef killed his drinking buddy and made tamales* using the man's body. He cut up the body and boiled the body parts in herbs. Carlos Machuca, a 56-year-old man,... Read more
---
Comments
---
No comments yet... Be the first!
---
Add Comment
---