Making love kills frogs and toads
Last weekend children found hundreds of dead frogs in a fishing pond in the Dutch village of Montfort.
According to frog expert H. van Buggenum from the local environment foundation the frogs paired themselves to death.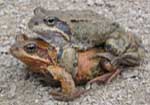 Every year the hormones of the frogs and toads lead them to the so called pairing ponds. The male frogs and toads then crawl in groups on one female. She gets stuffed underwater or gets suffocated by the weight of the enthusiastic males. The male frogs also die. That happens on the way to the pond. They get killed by a horde of their sex crazed friends.
In every pairing pond die about a hundred frogs and toads annually. "That's normal, but in this particular pond it's hundreds! That's pretty exceptional", Van Buggenum says.