Gay rights groups now focus on 'helping' gay penguins
A zoo in Germany has scrapped its plans to break up homosexual penguin couples after gay rights groups protested against it.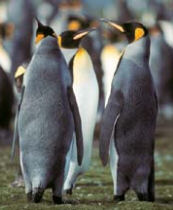 The Bremerhaven Zoo had noticed that three penguin couples turned out to be all male. In an attempt to encourage the penguins to reproduce the zoo had flown in four female penguins.
The plan was too introduce the female birds too the male which would hopefully lead to the endangered species reproducing, but the zoo abandoned its plans after gay rights groups protested against the experiment.
The zoo's director Heike Kueck said: "Everyone can live here as they please."
Kueck said it was never their intention to separate the couples by force and even if it was their intention, it wouldn't be possible to make them be interested in their new female companions.
Gay groups had earlier protested against "the organised and forced harassment through female seductresses" in an open letter to Bremerhaven's Mayor.