Dolphins defend swimmers from shark
A pod of dolphins circled protectively round a group of New Zealand swimmers to fend off an attack by a great white shark.
Rob Howes and three other lifeguards were on a training swim about 100 metres offshore at Ocean Beach near Whangarei when the dolphins raced in and herded the group together.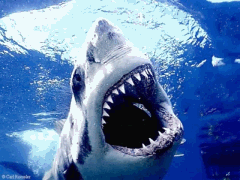 Rob said: "They started to herd us up, they pushed all four of us together by doing tight circles around us."
At that time the lifeguards didn't realize that the dolphins where defending them from a shark. When Rob tried to drift away from the group, two of the bigger dolphins herded him back just as he spotted a nine-foot great white shark swimming toward the group..
"I just recoiled. It was only about two metres away from me, the water was crystal clear and it was as clear as the nose on my face."
The lifeguards spent the next 40 minutes surrounded by the dolphins before they could safely swim back to shore.
According to the "Environment group Orca Research", dolphins attack sharks to protect themselves and their young, so their actions in protecting the lifeguards was understandable.
Posted in Animals by
---
Similar Stories
---

A man was attacked by a small shark and had to swim 300 metres, walk to his car and drive to a local surf club, with the shark still dangling on his leg, to get it off. 22-year... Read more

Aquarium bosses are playing the sounds of Barry White and Marvyn Gaye underwater to try and put a shark in the mood for love. Zorro, a six-year-old zebra shark, had worn out his... Read more
---
Comments
---
No comments yet... Be the first!
---
Add Comment
---