Blind car thief crashes stolen car
A 24-year-old from romania crashed into a tree in a car he stole earlier.
The Romanian man decided to steal a car after he had a row with friends about his inablility to do anything. His friends told him he was useless.
To prove his friends wrong Alin Popescu set out to steal a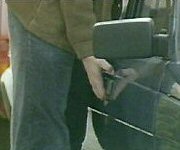 car and drive it home. That would shut 'm up, so he thought.
He actually managed to break into a parked car and start it with a screwdriver. He even succeeded in driving the car over a busy road for half a mile (0.8 km).
But after that the fun was over. Alin lost the little control over the car he had and smashed into a tree. He was knocked out by the crash and later arrested by the police.
He told police: "I just wanted to prove to myself that I could do anything I wanted - despite my handicap. I only crashed because I was not sure of the way home."
If I were Alin, I would find some better friends. Maybe doing something which is actually legal is also a smarter thing to do. At least he'll have plenty of time to think about his stupidness in jail!
Posted in Crime & Law by
---
Similar Stories
---

A thief in Brazil, who stole a car, returned it after the owner rang him up in the car and told the thief he was going through some financial difficulties. The butcher from Maua... Read more

An Argentinean man was arrested after offering drugs in return for his car. He hoped the car thiefs would bring his car back to get the drugs. Juan Carlos Centurion, whos car was... Read more

A man in Berlin, Germany was arrested for stealing what he thought was a 1000 euro note. Bystanders spotted the man breaking into a car which had the fake note casually lying on... Read more

A russian thief did not get far after he stole a car from a repair shop in southern Moscow without realising the car had no brakes. When the 24-year-old thief tried to get away... Read more

Two men in a stolen car crashed through the gates of the Florida governor's mansion, cut across the grounds and exited by smashing through another gate, police said on Thursday.... Read more
---
Comments
---
No comments yet... Be the first!
---
Add Comment
---