Gambler gambles his life's worth and wins
A man who sold everything he owned to risk it all on a single spin of the roulette wheel in the Plaza Hotel and Casino has left Las Vegas twice as rich.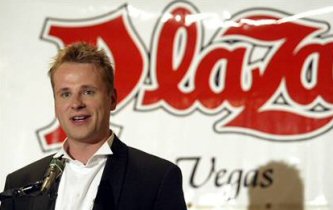 32-year-old Ashley Revell, from Kent, England, sold all of his possessions to raise cash and risk it all in a one-off bet in Vegas.
Revell raised about $135,300 from selling all his stuff in auctions and car boot sales. He took the money to vegas and put it all on red.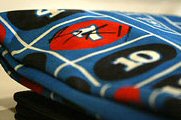 The ball landed on red 7 winning Ashley around $135,000. He punched the air with delight. If the ball had landed on black, Revell would have left Vegas empty-handed.
"That was just the most amazing experience I have ever had in my life. The first thing I am going to do is buy some new clothes, some sunglasses, obviously," he said.
"It was just wicked, I mean it was just... I can't describe my feelings going through that. It has just been a complete sort of rollercoaster ride. First it's on, then it's off."
"I just wanted to get the bet over with, and know either way. Obviously, I was feeling lucky, but I just didn't know."
"Really all I am going to do now is chill out, my family are here, my friends are here, so just spend some time with them."
Posted in Other by
---
Similar Stories
---

A student is facing legal charges for 'stealing electricity' worth less than $0.01 at a train station in Germany. 23-year-old Jan Michael Ihl plugged his laptop into a socket at... Read more

Aquarium bosses are playing the sounds of Barry White and Marvyn Gaye underwater to try and put a shark in the mood for love. Zorro, a six-year-old zebra shark, had worn out his... Read more

7-year-old Tyler Moon and his dad were thrown off their quad after hitting a tree. Tyler walked 2km through the Austrailian bush with all of his ribs broken to find help. Mr.... Read more

J-Lo's mom won the 2.4 million dollar jackpot in a casino in Atlantic City on Saturday night. Guadalupe Lopez hit the jackpot playing on the popular Wheel of Fortune machines in... Read more

The Liaoning Provincial Agricultural Museum is appealing to the Guinness Book of Records to recognise a 900 kilo pig which died on February 5 as the biggest pig ever! When the... Read more
---
Comments
---
No comments yet... Be the first!
---
Add Comment
---