Jennifer Lopez's mom wins $2.4 million jackpot
J-Lo's mom won the 2.4 million dollar jackpot in a casino in Atlantic City on Saturday night.
Guadalupe Lopez hit the jackpot playing on the popular Wheel of Fortune machines in the Borgata Casino & Spa, a casino spokesman said.
The superbabe's mom, Guadalupe said: "it was divine intervention.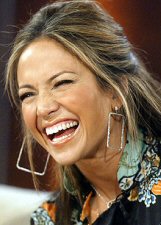 I have a great devotion to Our Lady of Guadalupe, the patroness of Mexico and the Americas, and had just looked up at the two million dollars and said a little prayer to her when I hit the jackpot. Our Lady really looks out for me."
"When I won, my knees started shaking and I started yelling and screaming."
She sure does! J-Lo's mom had nothing to worry about before she won the jackpot. Her daughter could buy her anything she wanted, but from now on Guadalupe Lopez can take care of herself with the $2,421,291.76 she won just before 8 p.m.
Posted in Entertainment by
---
Similar Stories
---

The Americans put the first man on the moon and the first tourist in space. Now the Russians could make one wealthy couple the first members of the 240-mile-high club. In its... Read more

Actor Jim Caviezel had to do a sexually explicit scene with the world famous babe Jennifer Lopez and did what no other man would ever do. He asked naked J-Lo to wear underwear... Read more

A man from Colorado, accused of killing a 19-year-old girl, told police he shot her after he responded to her Craigslist ad seeking a hitman -- for herself. According to an... Read more

A woman from Georgia, USA was arrested for trying to pay an amount of $1,671.55 with a fake million dollar note at Wal-Mart. The staff at the Wal-Mart in Covington called the... Read more

A 17-year-old boy was arrested while trying to hire an undercover police officer to kill his mother. He instructed the "hitman" not to damage the television during the attack.... Read more
---
Comments
---
No comments yet... Be the first!
---
Add Comment
---