A smelly e-mail
Sniffing the scent of the ocean while booking a vacation online or the smell of whisky and cigars while digitally listening to jazz. The British cable company Telewest adds a whole new dimension to internet: Smell!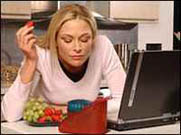 The technology makes it possible to send and receive a large number of odours through e-mail. The user has to attach a special scent device to his computer. This device contains 20 aromas that, while mixed properly, can produce about sixty scents.

The sender will have to send a code along with the e-mail to attach a special odour to it. The scent divice translates this code into a special smell that will be spread all around the computer.
Think about it! The scent of fresh bread while doing your online shopping or a relaxing aromatherapy.
The scent device can easily be connected through on of your serial ports on your computer. The hardware can be bought for the price of 250 British pounds.
Posted in Tech & Science Health & Food by
---
Similar Stories
---

The BBC asked reggae legend Bob Marley for an interview almost 24 years after his death. The British channel admitted that it was an "embarrassing error". "It... Read more

'Junior' or 'The second' was probably too normal for the son of an American computer programmer. His newborn son goes through life as Jon Blake Cusack 2.0 Version 2.0 was born... Read more
---
Comments
---
No comments yet... Be the first!
---
Add Comment
---