Russian survives snooze on train track
A Russian man who fell asleep between train tracks failed to wake up when a 140-tonne cargo train passed over him.
Vladimir Rasimov passed out and fell asleep between the tracks as he took a short cut home after going out with some friends in a bar.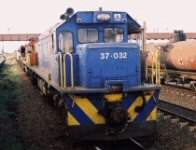 The train driver saw somebody on the line and braked sharply. When rescuers tried to pull the drunken sleeper from underneath the carriages the man was still sleeping. Unfortunately the rescuers failed and the train had to carry on to free him.
Train driver Vladimir Slabiy said: "I saw a man lying between the tracks and tried to stop, but it was too late. The train went right over him and I thought he must have been killed."
"But when I got out and checked he was still lying there fast asleep."
"If he had woken up from the noise of the train he would have lifted his head and been hit by the undercarriage and that would have been the end of him. It was lucky he was so drunk."
Posted in Health & Food Other by
---
Similar Stories
---

The Americans put the first man on the moon and the first tourist in space. Now the Russians could make one wealthy couple the first members of the 240-mile-high club. In its... Read more

A student is facing legal charges for 'stealing electricity' worth less than $0.01 at a train station in Germany. 23-year-old Jan Michael Ihl plugged his laptop into a socket at... Read more

Two Russian Navy officers were fined $90,000 for ordering ship engineers to install a temporary sauna next to the engine room. When the sauna caught fire, probably because of... Read more

A russian thief did not get far after he stole a car from a repair shop in southern Moscow without realising the car had no brakes. When the 24-year-old thief tried to get away... Read more

A dog is a man's best friend as the saying goes. Troughout the years dogs have saved mans life as well as helped track killers on the loose. We have taught them tricks as well as... Read more
---
Comments
---
No comments yet... Be the first!
---
Add Comment
---