Sleepy fan spent the night in stadium
An Irish rugby fan got locked in Wigan's JJB stadium after he fell asleep on the toilet.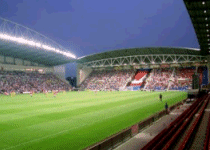 Paul Walsh had been watching the match between Wigan Warriors and Leeds Rhinos. The match ended in 14 - 38 for the visitors.
Nine hours later he woke up and called the police on his mobile to let him out of Wigan's JJB stadium.
Paul said: "We'd had a few drinks and just before the end I thought I'd beat the crowds and nip to the loo. Unfortunately my friends thought I'd gone straight home afterwards."