Sleepy fan spent the night in stadium
An Irish rugby fan got locked in Wigan's JJB stadium after he fell asleep on the toilet.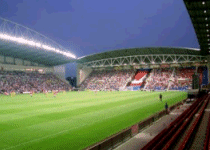 Paul Walsh had been watching the match between Wigan Warriors and Leeds Rhinos. The match ended in 14 - 38 for the visitors.
Nine hours later he woke up and called the police on his mobile to let him out of Wigan's JJB stadium.
Paul said: "We'd had a few drinks and just before the end I thought I'd beat the crowds and nip to the loo. Unfortunately my friends thought I'd gone straight home afterwards."
Posted in Entertainment Other by
---
Similar Stories
---

A Dutch football club has banned one of its fans for posing for a photograph with the local mayor with his penis hanging out. Mayor Wim Deetman did not realise the ADO Den... Read more

A teenager took his father's credit card and spent about £12,000 during a four-day trip to Brighton and Rome. The teenager, Tom Smith, stole the credit card from his father... Read more

People in Tripura, India were shocked to hear the fish they purchased might have spent the night with a human corpse. Fish traders in Tripura have been storing hilsa, a kind of... Read more

A Belgian referee's pants and shorts were pulled down by a fan. The referee says he'll never officiate another match again after this humiliating event. Jacky Temmerman was... Read more

A date with former Baywatch star Carmen Electra is being auctioned off on Ebay for charity. The ex-Baywatch actress is up for sale to help raise money for The National Prostate... Read more
---
Comments
---
No comments yet... Be the first!
---
Add Comment
---