Online gamer murdered over cyber-sword sale
A Shanghai online gamer murdered a competitor by stabbing him to death because he had sold his friends cyber-sword.
41-year-old Qiu Chengwei, stabbed competitor Zhu Caoyuan repeatedly in the chest after he was told Zhu had sold his "dragon sabre".
A "dragon sabre" is one of the assets you can win in the popular online game Legend of Mir 3. Legend of Mir 3 features heroes and villains, sorcerers and warriors, who often have huge swords to fight with.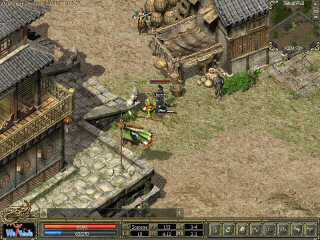 Qiu and a friend jointly won their weapon last February. They lent it to Zhu, who in turn sold it for $1129, without telling his friends.
Qui reported Zhu to the police, but was told the virtual weapon was not real property protected by law.
The court was told: "Zhu promised to hand over the cash but an angry Qui lost patience and attacked Zhu at his home, stabbing him in the left chest with great force and killing him."
This is not the first time a gamer seeks justice through the courts over stolen weapons and credits.
"The armour and swords in games should be deemed as private property as players have to spend money and time for them," Wang Zongyu, an associate law professor at Beijing's Renmin University of China said.
Posted in Crime & Law Entertainment by
---
Similar Stories
---

A date with former Baywatch star Carmen Electra is being auctioned off on Ebay for charity. The ex-Baywatch actress is up for sale to help raise money for The National Prostate... Read more

A parking space in central London is for sale for $187,500! The space is available in the Knightsbridge underground car park near the luxury department-store Harrods. It is thought... Read more

Sniffing the scent of the ocean while booking a vacation online or the smell of whisky and cigars while digitally listening to jazz. The British cable company Telewest adds a whole... Read more

A mobile telephone number in Bahrain is on sale for $19,000. This mobile telephone number has become the most expensive in the history of the local market, for no reason other than... Read more
---
Comments
---
No comments yet... Be the first!
---
Add Comment
---