Child gets serial number
'Junior' or 'The second' was probably too normal for the son of an American computer programmer. His newborn son goes through life as Jon Blake Cusack 2.0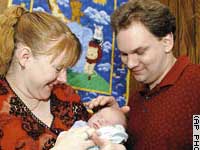 Version 2.0 was born last Thursday (29-01-2004) in Holland, Michigan. "Jon Blake Cusack 2.0 looks a lot like 1.0, but has gotten a few extra functions from his mother Jamie", wrote the proud father in an e-mail to family and friends.
Cusack wanted to name his son a little different then just Jon Blake. He had the idea to give his son a serial number for some time now. The trick was to convince his wife! Jamie Cusack agreed on the idea only a week before giving birth. "I got to choose the design of the baby's room and a few other things, so Jon could pick the name".
Posted in Tech & Science Other by
---
Similar Stories
---

Sniffing the scent of the ocean while booking a vacation online or the smell of whisky and cigars while digitally listening to jazz. The British cable company Telewest adds a whole... Read more

A mobile telephone number in Bahrain is on sale for $19,000. This mobile telephone number has become the most expensive in the history of the local market, for no reason other than... Read more

A Japanese couple thought they'd raised their own son for the last 46 years. They recently found out it was the wrong child. The couple got the boy from a maternity clinic in... Read more

A couple from Germany went to a fertility clinic to find out why - after eight years of marriage - they were still childless. The cause of their trouble conceiving was an unexpected... Read more

A man was attacked by a small shark and had to swim 300 metres, walk to his car and drive to a local surf club, with the shark still dangling on his leg, to get it off. 22-year... Read more
---
Comments
---
No comments yet... Be the first!
---
Add Comment
---