Executioner shot by his animal victim
A dog is a man's best friend as the saying goes. Troughout the years dogs have saved mans life as well as helped track killers on the loose.
We have taught them tricks as well as disciplined them to help the blind. Sometimes we wonder how elite our animal friends are.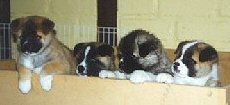 In a case a couple of days ago a man from Pensacola, Florida was planning to shoot four puppies in a litter. The so-called Jerry Allen Bradford, 37, however only shot three puppies and was aiming his pistol at the fourth when the pup beat him at his own game.
The pup allegedly wriggled free, triggered the gun with his paw and fired shooting Bradford in the wrist. Ironically Bradford who went for treatment was arrested by his doctor and charged with animal cruelty.
We will definitely be seeing a smile on one pups face.
Posted in Crime & Law Animals by
---
Similar Stories
---

A man from Colorado, accused of killing a 19-year-old girl, told police he shot her after he responded to her Craigslist ad seeking a hitman -- for herself. According to an... Read more

A Chilean presenter was shot in his leg on TV when a guest on his show accidentally used a real gun instead of a fake gun. It was supposed to be a fake duel. A guest on the TV... Read more

A sea lion was captured after motorists found it flopping along the road northeast of Los Banos. Apparently the sea lion had swum 100 kilometres upriver from the ocean. While the... Read more

A pair of thieves who seized a van loaded with pricey designer goods near Paris on Wednesday took a two-hour detour so they could drive the owner home for his Christmas Eve dinner,... Read more

A love motel in Soa Paulo has opened for amorous dogs. The love motel offers decorated rooms for dogs of pet owners who are concerned for their animal's needs. Robson Marinho,... Read more
---
Comments
---
No comments yet... Be the first!
---
Add Comment
---