Half-ton man lost 144 kilograms
A man who once weighed 482 kg (1062 lb.) has lost 144 kg (317 lb.) under the care of a team of doctors. He hopes to lose another 203 kg (448 lb.).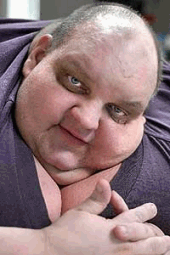 42-year-old Patrick Deuel who is just under six feet tall weighed 482 kg when he was admitted to Sioux Falls' Avera McKennan Hospital eight weeks ago. It took months to find a hospital. The doctors advised him a 1,200 calorie-a-day diet.
Fred Harris, the doctor who's supervising the treatment, said: "If we hadn't gotten him here, he'd be dead now".
Before Patrick was admitted to hospital he battled heart failure, thyroid problems, diabetes, pulmonary hypertension and arthritis. He also needed help just to roll over in bed! Patrick even needed a special ambulance and an extra wide bed to accommodate for his unusually large body. "Until recently, I wasn't able to see any light at the end of the tunnel," he said.
(Un)fortunately he is not the heaviest man in the world. According to the Guinness World Records Web site, the record for heaviest man in the world is 629 kg (1387 lb.), held by Jon Brower Minnoch of Bainbridge who died in 1983.
According to Dr. Fred Harris the care could cost millions of dollars, much of which the hospital may have to cover.